Social Prescribers
Social prescribing can involve a variety of activities which are typically provided by voluntary and community sector organisations. Examples include volunteering, arts activities, group learning, gardening, befriending, cookery, healthy eating advice and a range of sports.
There are many different models for social prescribing, but most involve a link worker or Social prescriber who works with people to access local sources of support.
The Bromley by Bow Centre in London is one of the oldest and best-known social prescribing projects, staff at the Centre work with patients, often over several sessions, to help them get involved in more than 30 local services ranging from swimming lessons to legal advice.
Social prescribing also aims to provide GPs with somewhere to refer these patients on to, helping the patient and freeing up GP time.
Social prescribing allows GPs to refer patients to non-clinical services, which are often run by charities, with the aim of helping then to take greater control of their own health.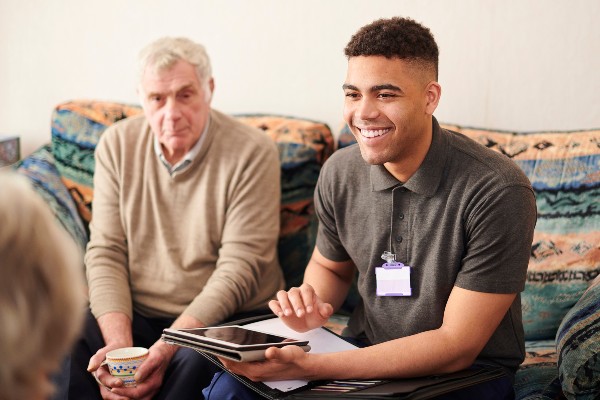 Social Prescribing' is a system where healthcare professionals are able to refer patients to local, non-clinical services to meet their wellbeing needs. What you can take part in will depend on what's available locally, and how local services work together.
In some areas, a GP or nurse might refer you to a 'Social Prescriber (link worker') – someone who meets with you to find out what you need, what you'd like to do, and then puts you in touch with a local organisation or group that can provide it.
In other areas, the healthcare professional might put you directly in contact with a local group or organisation.
Social prescribing is a way for local agencies to refer people to a link worker. Link workers give people time, focusing on 'what matters to me' and taking a holistic approach to people's health and wellbeing.
They connect people to community groups and statutory services for practical and emotional support.
Social Prescribers provide support to patients dependent on their specific needs e.g.
One to one support
Undertake home visits to assess patient needs
Accompany patients to services/appointments/visits if deemed necessary
Signpost patients to other appropriate services identified after their assessment
Make referral(s) to other services
HOW SOCIAL PRESCRIBING CAN HELP GPS
There is emerging evidence that social prescribing can lead to a range of positive health and well-being outcomes. Studies have pointed to improvements in areas such as quality of life and emotional wellbeing, mental and general wellbeing, and levels of depression and anxiety.
We recognise that Social prescribing, is sometimes referred to as community referral, and is a means of enabling GPs, nurses and other primary care professionals to refer our patients, service users to a range of local, non-clinical services.
We recognising that people's health is determined primarily by a range of social, economic and environmental factors, therefore social prescribing seeks to address your needs in a holistic way. it also aims to support you to take greater control of your own health.
HNPCN social prescriber and Health coach will collectively support you to tap into services to meet your individual needs, but will also support you if you need to make lifestyle changes.